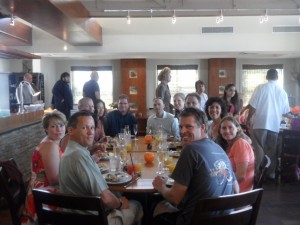 Having completed the Croom Fools Run 50 Miler, I hung out and cheered in some more racers, chatted, and ate more food. Then the drive back to Andrea/Armando's, and then I was hungry! So we found a Thai food place, and put in a call… only to find they couldn't take orders… because of a power outage due to fire! Fires just don't want me to eat in Florida. But we found another place and ordered, and I jumped into an ice bath (so coooold, but so good). When I got out, there was delicious food ready and then it was bed time.
In the morning we went to a yummy champagne brunch at Oystercatchers with a crew of racers. Then Andrea, Armando, Mike, and I had a drink looking over the gulf as we had a bit of time before or flight. They dropped us off at the airport, and it was time to head home from our whirlwind tour of the trails of Florida.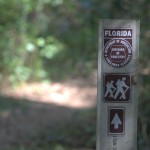 It was awesome to meet the runners I had heard so much about, and to see Andrea and Andy and Charles and all the others! Thanks Florida runners for the welcome and sharing your trails with me 🙂
Since my gut issues had me walking more than my legs needed me to, recovery wasn't too bad. Yes, I could tell I ran. But I wasn't especially sore. I headed to Vegas for work for a couple days, and did some easy time on the elliptical machine in the mornings.
My first run could definitely feel that my legs were worn out, and then today was the PossAbilities Tri, and I raced. Mike and I met at that race way back in 2006, and have both raced it every year since. I could feel that my legs weren't all there! But I still had a good day, getting 1st in my age group, although a couple minutes slower than last year.