Ok so I have been slacking, and even race reports aren't all here! Since I can't just let it go and move on, here are probably the shortest race reports I ever have or ever will again write…
8/1/09 Barbs
The fun part of this race was that Mike was doing the Full Vineman, which starts just before and d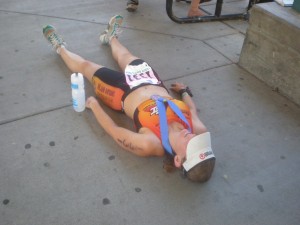 oes two loops on the course. So I got to help Mike on his way, leaving me no time to stress about me. I was of course a bit stressed for him, being that this is the same course where he got hit by a car back in 2007. But thankfully there was no repeat!
Mike was out of the water before I even had to get ready (letting me fold up his wetsuit for him since it is a pack-it-yourself race). Knowing it is a popular half for beginners, I moved to the front of the swim, dealt with the contact, and just went for it. Out and onto the bike through the course near my hometown, and soon onto the run. I felt pretty good, and had a goal of not getting passed by Mike on the run (he'd start running while I was already out there). And I made it, crossed the line and was wiped! A PR of just over 20 minutes! 5:33:43.
9/2/09 Run with the Cops 5k (Gracie's first race)
I was scheduled to drive some kids to this race, and decided I could get in a decently long run while they all ran and chatted and got awards, so I loaded Gracie and Mike into the car and headed out. Little did I know the kids' group had signed me up! So I apologized to the race director, said my dog was with me, and learned Gracie was welcome there! So the bib was pinned onto her collar and my little girl dog got to do her first race. Since we weren't sure how it would all go, Mike joined us for much of the run. And she was a strong little girl dog, winning the female dog division overall! And was 2nd dog overall.
12/13/09 Tinsel Tri
Another local, reverse order sprint. It is a favorite of the kids, but while it is always fun, and some of the costumes people wear are awesome, there was nothing too special for us this year.
1/31/10 Highland DU
Take one of the toughest 5k/10k/half marathon courses in the area, and turn it into a duathlon! Two tough runs with a deceptive (false flat uphill on the way out) bike course. And then add some fun by having the duathletes go by the runners of the other races… letting us cheer them on!
2/14/10 Redlands Tri
Back in 2004 the Redlands Tri was my first tri ever! It was at a different site that year, but the same basic reverse order distance. That year, I was scared because the bike was borrowed, and I dropped my water bottle. This year, I was second overall female. Yeah, consistency and training do pay off 🙂
3/7/10 Desert Tri
It is always a tough day… I'm not sure why. It's just a hard one for me. This year was no real exception, and I didn't feel I had the training in me that I would like to have. But got 'er done.
4/25/10 PossAbilities
The theme of not feeling the race mojo continued at PossAbilities (another local reverse order sprint). And to top it off, I was sick leading up to it, and Mike was sick on the day. It being the 5th year we both did the race, and it being the race we met at, we still got out there and gave it a go. Mike was feeling so badly that about 200 yards into the run he knew it was a day to stick with me, and make it special by racing together. It was fun to have him by my side… and fun to have him blocking people trying to draft on the technical hill bike course (yes, hill… up and down it 3 times… with a uturn at the bottom… ugg!) Heidi, a good friend and awesome runner new to tris finally beat me, which of course was a bit bitter sweet. As proud as I am of my mentee, and as much fun as I have helping her and watching her grow in the new disciplines, it is always a bit tough to really accept that some people have crazy talent. But at the end of the day, she is such a great friend that of course the pride in her accomplishment is the main feeling.
5/21-23/10 Triple T
Ok for this one I actually have bullet points on paper from the day after the race… I'll post them shortly (for real this time!) — OK I did it, but I cheated and dated it earlier, so find it back in May 2010 😉
10/10/10 Trek Women's Tri
Having a free entry, there was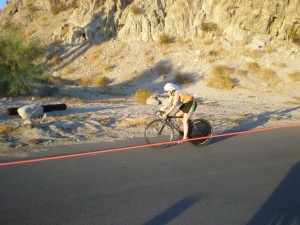 no reason not to do this race. At registration the day before (yes, it sucked to have to go out to register), I ended up switching into the elite wave. It's another very beginner friendly race, which is awesome, but I still wanted to race my best, and I didn't want to be the mean one who swam too aggressively for some of the newer swimmers. Since I was supposed to be in the forth wave, but had placed in the top 5ish the year before, they just moved my start. It was co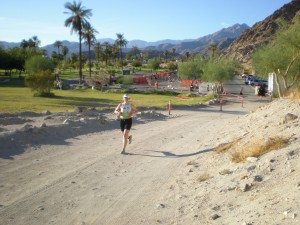 ol because there was only one other elite, and it was an excuse to chat with another strong tri woman and make a friend. My swim felt solid, the bike fine (well… once I got on the bike… I was in totally the wrong gear, and then completely missed the seat and bounced off the front of it, and then weaved onto the wrong side of the road… you'd think after the number of races I've done on that same course I'd remember to go in an easy gear! The smile in the bike pic is because I was finally on it!), and the run was tough. But I held on for 2nd elite! 😉 And I was also 4th overall.
10/14/10 Race for Rescues 10k (with Mike, Gracie, and Annie)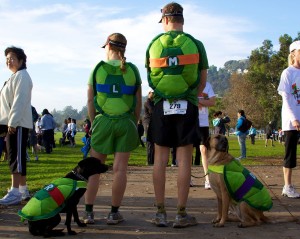 A race that supports animal rescue? And that encourages four-legged participation? What could be better? Oh one that is near Halloween and has a costume contest? I'm in! So Mike, Gracie, Annie and I headed out to Pasadena for a fun couple laps of the Rose Bowl. And yes, we had the most awesome costumes.
Ok, so it turns out we were misinformed and there was no costume contest. But we still looked awesome,
and hey, then our Halloween costumes were ready to go! Oh and Gracie was first dog overall, and Annie second dog overall (even though Annie crossed the line first… it was a technicality). And there were medals! Or at least they got to share Mike's and my medals. And it was a really fun family day. There were definitely plenty of doggy distractions and Gracie and Annie were such focused, good little racer girls.
12/4/10 Gladiator Rock 'n Run 5k
Hey Karen, what are you doing this weekend?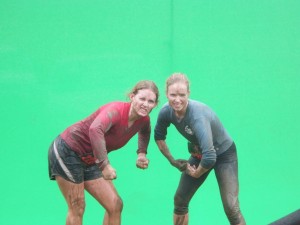 She didn't have a good answer, so a plot was born… I had a free entry to a pretty crazy sounding race: 5k of mud and obstacles. So we split the cost of a second entry since I wasn't sure the trip was worth it alone (and Mike was out of town).
It was a chilly morning, and the mud wasn't much warmer. But it was a blast to race it together! And we were in the first of many waves, and the first women in that wave, so in the eyes of the crowds we were the first women! Which made for some fun cheering and good support. Oh, and always pick the first wave because the shower line by the end was crazy, and all the obstacles got more backed up. But our experience was a great one!