I have some things to write about, and so I came back here. And saw it has (yet again) been neglected. It happens when things are going well, and I don't need to think things out in typing. Although this is often a place I've shared excitement, too. And there has been excitement. About a week after the last post, my life began to change. About another week later, I knew it was going to change. And there was definitely excitement about becoming a mommy!
And now, more than a year later, I'm such a proud mommy. And Mike is such a wonderful dad. And Gracie and Annie are the best big puppy sisters. Pregnancy? Wonderful. Labor? Intense. Her birth? Amazing. Having her in my life each day, and seeing her learn and grown? Best thing ever. Seriously. There are of course tough and easy days, but Mackenzie Joy is truely a huge joy in our lives. No words can really explain how much I love her.
Here I am with my little girl as she was a day old: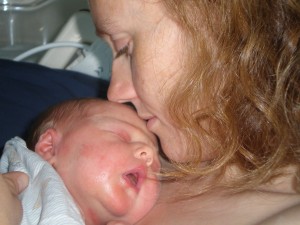 I do hope to put down more preggo/birth stuff, so perhaps later.